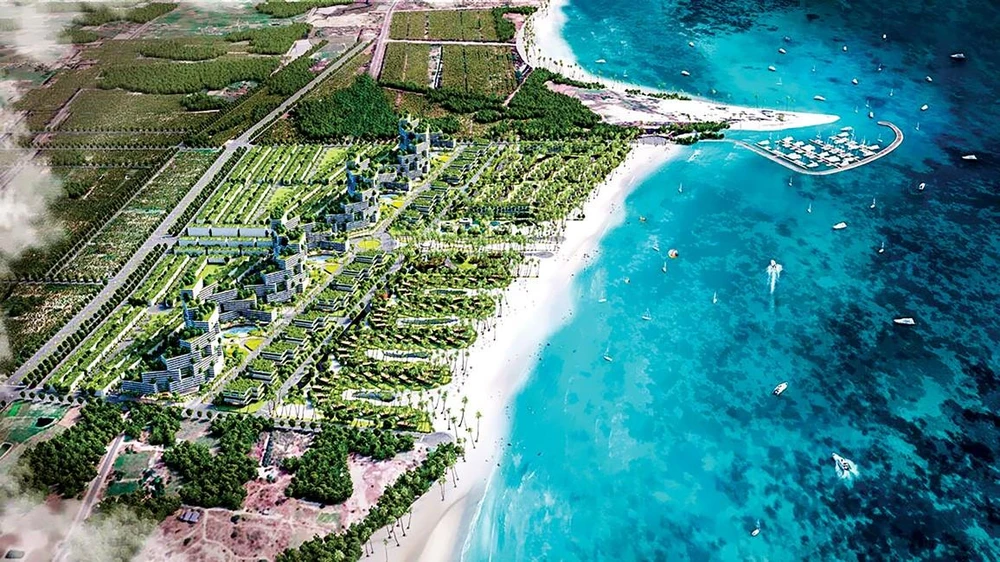 However, after canceling this project, Binh Thuan Province rushed to re-kick off the old tourism project once again, to attract similar investments, especially tourism resort projects with the target to recover and restore the beautiful beaches in this area.
Investors are back
Since 2000, the People's Committee of Binh Thuan Province has called for investments in three areas including Tien Thanh (Phan Thiet), Thuan Quy and Tan Thanh (Ham Thuan Nam). The plan to build the Ke Ga Resort was part of a master plan to target economic activities in the South of Binh Thuan.
Based on this plan, many investors gathered there to build eco-resorts with the ambition to turn the 30km beach into a hub of resorts in Binh Thuan.
However, while investors were constructing their tourism resort projects, the People's Committee of Binh Thuan required them to postpone as the Prime Minister had other plans to construct a Ke Ga port in these places. Developer of Ke Ga port project at that time was TKV.
The repossessing of land from tourism resort projects to build the port created a bad impact for real estate developers. These projects have been on hold and investors, including domestic and foreign companies, have lost their trust on the plan offered by the authorities.
Recently, the Prime Minister canceled the Ke Ga port project and asked the People's Committee of Binh Thuan and TKV to compensate for the losses and invite the old investors to come back.
According to Nguyen Huu Tho, a government officer in Ham Thuan Nam, over the last year, about 10 tourism resort projects are planned to be constructed. Some of them are Thanh Long Bay of Nam Group, NovaWorld of Novaland, and Aloha Beach Village of Viet Uc Group.
Many experts think that the driver that led to the development for Ke Ga tourism area is the Long Thanh Airport project which is planned to run commercially by 2025. With a capacity to serve 100mn passengers, Long Thanh Airport is expected to bring huge number of visitors to Binh Thuan and create attractive investment opportunities for investors.
Resolve bottlenecks, recover trust
In a discussion with Sai Gon Investment, Nguyen Duc Hoa, Vice President of the People's Committee of Binh Thuan Province said that besides the 13 tourism projects being impacted directly by Ke Ga port, there are also 63 other projects which have been influenced badly. In coming times, the authorities in Binh Thuan will review all projects, resolve their related problems, and create favorable conditions for investors to recover their old projects. The authorities will also repossess some projects which have missed the deadline for implementation.
According to Nguyen Duc Hoa, Ham Thuan Nam has unique characters that other locations do not have to attract investors. Firstly, Ke Ga has long, natural, peaceful, safe and clean beaches. There are also many tourist points in this area, including Ta Cu Mountain, Linh Son Truong Tho, Buddha Statue with a length of 49m, Bung Thi Hot Water Fall, Nhay stone area, Thay Thim house, and Ke Ga Lighthouse.
"Ham Thuan Nam has huge potential to develop tourism resorts given its big land bank, inexpensive land prices, professional and consistent planning. The other thing that makes this area more attractive is that the People's Committee of Binh Thuan is implementing a project to construct a road along the beach, DT719B, to connect Ke Ga with Phan Thiet at total investment of VND 1,000bn. The target is to attract more domestic and international tourists to stay longer and keep coming back", said Nguyen Duc Hoa.
Big projects
In the first half of 2019, Binh Thuan has become a hot spot for real estate market in Vietnam. Many big projects have been kicked off here, including Paradise Bay, NovaHills, NovaWorld, Goldsand Hill Villa in Phan Thiet, Apec Mandala Wyndham in Mui Ne and Thanh Long Bay in Ke Ga.
The investment of big investors with a commitment to invest for long term is expected to bring a huge change to this dragon fruit area. Among above projects, NovaWorld and Thanh Long Bay are considered outstanding in terms of size and quality.
According to Nguyen Duc Hoa, Vice President of People's Committee of Binh Thuan Province, the target is to attract strategic investors who have long term plans, strong financial capability to construct beach towns, tourism complexes, entertainment zones and parks based on high quality standards.
Thanh long Bay is located in Tan Thanh, Ham Thuan Nam with total area of 90 ha. The project includes resorts, beach townhouses, beach villas, beach apartments and hotels. All of them are constructed under five star standards. Furthermore, Thanh Long Bay is one of the few projects in Binh Thuan which have been allowed to construct a yacht port. This place is expected to gather yachts from domestic and international yacht federations.
NovaWorld is all-in-one tourism resort complex with total area of 1,000ha. The developer of this project is Novaland. The complex includes variety of products such as grand villas, villas, resort townhouses, and shops along the seaside of size about 100-240 sq. m. Novaland will set aside 220ha to build a sports complex, including one 36-hole golf area and park.
Do Duy Thoan, Deputy CEO of Nam Group, said that most projects in Ke Ga have been recovered. However, it lacks big projects of international standards to attract luxury tourists.
According to data of Binh Thuan, at the end of 2018, there were 238 hotels in the province with total 9,476 rooms. Among these hotels, there were only three five-star hotels with 348 rooms, 28 four-star hotels with 3,083 rooms. This means there are many hotels which are operating under the mid-and-low end range and therefore there is huge potential for high-standard projects to develop.