Danh Song's family in My Xuyen District, Soc Trang Province, has been pouring out 40 liters of cows' milk a day for the last five days. They family raises 10 cows and sells the milk to a distributor, Evergrowth, at VND12,000 (52 U.S. cents) per liter.
But starting July 19, when social distancing measures were imposed in southern localities, trucks have been unable to pass Covid-19 checkpoints and reach Song's neighborhood.
"We cannot transport the milk anywhere because of restrictions. No one buys it, and even when I give it away, neighbors don't want it," said the 46-year-old farmer. "The only solution is to pour 40 liters away every day."
The dumping means Song loses an income of VND480,000 a day, while his daily expenditure on feeding the cows is VND230,000.
Song is among 50 farmers in the district who have been unable to their cows' milk over the last five days. They are dumping an estimated 1,400 liters worth VND20 million every day.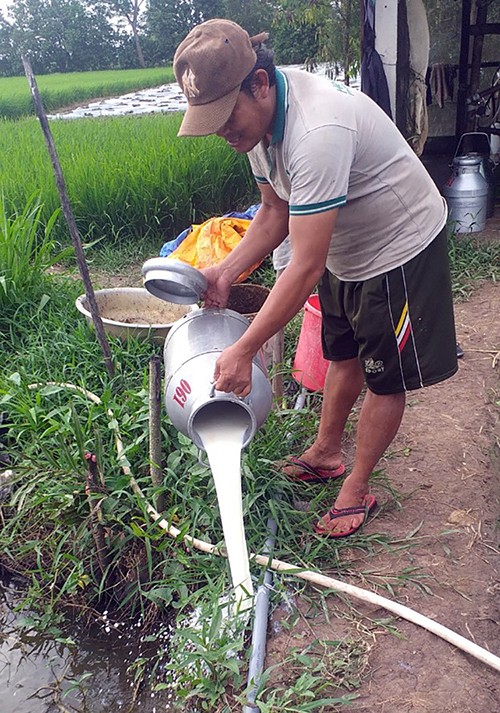 Farmer Danh Song pours milk away as he cannot sell it amid Covid-19 restrictions. Photo by VnExpress/Chau Thanh.
Local authorities said most of the suffering farmers are located at some distance from national routes and, therefore, are not accessible by 3.5-ton trucks.
A similar situation is happening on a larger scale in Can Tho City, where the Food Farm Co. Ltd's farm with 500 cows is located.
The cows produce over 1,500 liters of milk a day, which are priced at around VND75 million in total, and most of it is sold in HCMC, said the company's CEO, Vo Kim Cuong.
But Covid-19 checkpoints have made transportation to the city difficult, while demand has plunged by half. The company has been pouring away tens of thousands of liters since earlier this month, Cuong said.
Transporting goods to HCMC in recent weeks has been a headache to many suppliers because the city and other southern localities require drivers to test negative for Covid-19.
Drivers who cannot get the test results or whose results have expired have no choice but to turn their trucks around.
In a recent meeting with representatives of the Ministry of Industry and Trade, several companies have complained some localities do not regard milk as an "essential" good and are preventing trucks carrying it from entering their area.
Since milk has a short expiration period, they have proposed a more streamlined policy between localities to help distribute the produce more quickly.
But until new regulations are issued, farmers have no other option than pouring their cows' milk away.
Cuong said that the company has been seeking Can Tho authorities' permission to sell milk at a 30 percent discount through the city's distribution channels, but the request has not been approved.
In the latest update, farmers in My Xuyen District can sell their daily products ate a purchasing point just established in Soc Trang Town.